+ One sponge cloth can replace the use of up to 40+ rolls of paper towel

+ Cuts plastic waste from landfills by replacing traditional sponges and paper towel packaging

+ Absorbs 15x its weight in liquid [up to 3/4 of a cup]

+ Quick-drying and naturally anti-bacterial

+ Washing machine and dishwasher safe

+ Fully compostable in both a home and industrial compost

+ Designed in Canada, ethically made in Sweden

Both functional and sustainable—the Ten and Co. Swedish Sponge Cloth is the ultimate eco-friendly kitchen accessory.

Depending on use, your sponge cloth can last anywhere from 6-12 months. Once your dishcloth has reached the end of its lifecycle, it can easily be composted in a home or industrial compost, leaving zero waste behind!

Want to learn more about our Swedish Sponge Cloth?
WATCH | All About the Swedish Sponge Cloth
MATERIAL
+ Made from repurposed cellulose [wood pulp] from FSC-certified forests and cotton offcuts from the textile industry
+ Printed using toxic-free, water-based dyes

CARE
+ Washing machine and dishwasher safe
+ Rinse after use each use and squeeze out excess water
+ Lay flat to dry in an open area

Tip | If your sponge cloth gets caught in the dryer and shrinks, wet it, and it will slowly go back to its original size

END OF LIFE
+ Your sponge cloth is 100% compostable or recyclable and can be composted in both a home and industrial compost

Tip | If your sponge cloth is tattered but still in working condition, it can still be used to clean less desirable nooks and crannies like baseboards behind your toilet and even car tires.
Your sponge cloth will soften and plump up when wet leaving your surfaces clean and streak-free.

The sponge cloth is the ultimate sink side accessory and is typically used in place of traditional dishcloths, sponges and paper towels. We have listed a few less common but super helpful uses below:

KEEP YOUR PRODUCE FRESHER LONGER
+ Line a container with a sponge cloth to absorb excess moisture.

WHEN YOU NEED A LITTLE EXTRA GRIP
+ Place a damp sponge cloth under a cutting board or bowl for extra grip and support when cutting or mixing up a delicious recipe.

NEVER AGAIN SEARCH FOR A ELASTIC BAND
+ Keep a damp sponge cloth on hand to open any stubborn jars.

NOT JUST FOR KITCHEN USE
+ Cut your bathroom clean-up time by using a sponge cloth to wipe up and rouge hairs or toothpaste splatters.

KEEP YOUR MAKEUP BRUSHES FRESH AND CLEAN
+ Lay your damp sponge cloth in the sink. Then, gently swirl your makeup brush using a mild soap until the suds are white and makeup free.
ORIGIN
+ Designed in Canada by Ten and Co.
+ Made ethically in Sweden

SIZE
+ 6.75"" x 8""

PACKAGING
+ This product is package free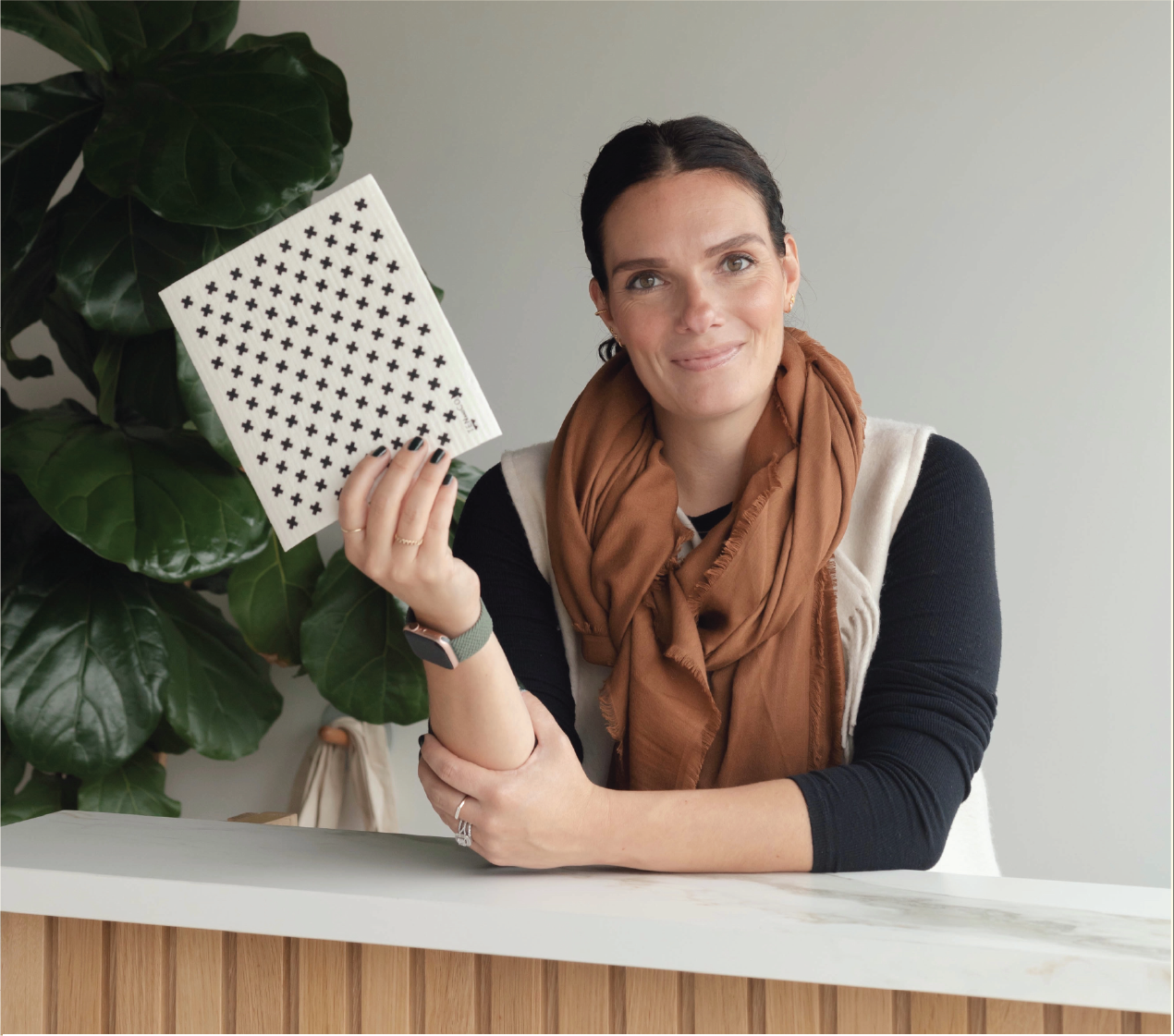 your impact
We believe that small actions change the world. With every sponge cloth, an average household of 2-3 people can eliminate the use of up to 40+ paper towel rolls yearly.

So what does that mean?
When cutting back on the use of paper towels, you are eliminating the use of plastic packaging, r educing the demand for paper that can contribute to deforestation, habitat loss and wildlife endangerment, and romoting the use of reusable products and a sustainable way of living!
Incredible right?